To view our latest Newsletter, click here.
---
Foreclosed Properties For Sale - Make Us An Offer!!

Contact Sabrina Burke, Realtor @ (850) 227-5321.

4 lots at Howard's Creek, Gulf County, FL

Lots 1, 2, 4 and 5 on Old Bay City Road

Each lot averages 218 x 100

$38,000.00 Price Reduced!

$20,000 for all four!

Or $5,000 each.

Also at Howard's Creek, Gulf County, FL

Tract A on Old Bay City Road (adjoins Lots 1 & 2 above)

Lot size is 0.90 acres

$13,500 Price Reduced!

$10,000.00

SOLD! 2094 Stone Mill Creek Road

Wewahitchka, FL

Lot size is 1.00 acre

$14,000.00 Price Reduced!

$9,000.00

SOLD! 829 Old Transfer Road


Wewahitchka, FL

2008 Mobile Home and Lot

$36,200.00
Holiday Schedule 2018

| | | |
| --- | --- | --- |
| New Year's Day | Monday | January 1, 2018 |
| Martin Luther King, Jr. Day | Monday | January 15, 2018 |
| Memorial Day | Monday | May 28, 2018 |
| Independence Day | Wednesday | July 4, 2018 |
| Labor Day | Monday | September 3, 2018 |
| Veterans' Day | Monday | November 12, 2018 |
| Thanksgiving Day | Thursday | November 22, 2018 |
| Day after Thanksgiving | Friday | November 23, 2018 |
| Christmas Eve | Monday | December 24, 2018 |
| Christmas Day | Tuesday | December 25, 2018 |
| New Year's Eve close @ 1:00PM EST | Monday | December 31, 2018 |
---

Hurricane Season Information
All members need to be prepared for Hurricane Season. If a watch or warning is issued for our area please make plans to withdraw extra cash in the event of an evacuation or in preparation for a disruption in local services. The credit union's policy is as follows:
Tropical Storm Watch or Hurricane Watch - The credit union will extend hours as long as practical to better serve our members. Make sure to withdraw extra cash. If changes to our hours are necessary we will post those changes on signs in our lobbies, on our doors and on our website. The credit union will also make necessary preparations to secure all branches in case a warning is issued.
Tropical Storm Warning or Hurricane Warning - If the storm is expected to be severe once the warning is issued, the credit union will close all offices as soon as possible. We will reopen as quickly as possible to serve you, but our primary concern will be the safety of our employees and their families. All of our ATM machines will be available to those needing to make a withdrawal after the credit union closes.
Make Sure You Have Enough Cash! Again, please do not wait to get extra cash. If local power is disrupted by the storm then our ATMs may not function. We also recommend that you do not depend on your debit card during a disaster situation. Network problems, power disruptions and daily limits will make debit cards unreliable.
For Information during a Tropical Storm Warning or Hurricane Warning -
For members with internet access, information regarding the credit union's operating status can be viewed on our website at www.emeraldcoastfcu.com or the League of Southeastern Credit Unions' website at www.lscu.coop.
For members without internet access, contact the League of Southeastern Credit Unions' Disaster Hotline at 866.231.0545. This hotline will be kept updated with the latest information on the credit union's status.

If necessary, we will also post information using local television and radio stations. Signs will also be posted on our doors, if possible.
If the credit union is unable to reopen within 48 hours after the storm has passed, we will post information detailing where members may go to access their accounts. The credit union has established agreements with other credit unions across Northwest Florida to provide workspace and computers thus enabling employees to link with our data processing system and perform transactions as needed.
For questions regarding our Hurricane Season procedures, please contact the Credit Union at (850) 227-1156.
---
Stay Secure...Help us protect your financial information
Check your statements frequently to ensure they match your recollection and your other records. If at any time you notice any discrepancies between your statements and your other records, please notify us immediately.

Never give out account numbers or other personal financial information, unless you can validate the authenticity of the requestor.

Always shred personal and financial information before discarding it.

Every year, review your credit report. You're entitled to a free credit report annually. Simply contact one of the three main credit-reporting bureaus: Equifax® at 800-525-6285 or equifax.com. Experian® at 888-397-3742 or experian.com. TransUnion® at 800-680-7289 or transunion.com.
---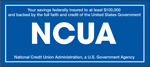 Your Credit Union Accounts Are Safe and Insured
Credit Unions remain a safe harbor for your savings and other accounts, despite economic woes, including recent bank failures. Thanks to federal insurance, members' shares are backed by the full faith and credit of the U.S. Treasury. There's no better time to be a credit union member. Virtually all credit unions are insured by the National Credit Union Share Insurance Fund (NCUSIF), which insures savings of at least up to $250,000 per account. Certain retirement accounts such as IRAs and Keoghs benefit from additional coverage of up to $250,000. Emerald Coast Federal Credit Union is one of the credit unions insured by the NCUSIF. So rest assured, your shares are safe and insured. NCUSIF's equity-to-insured deposits are estimated at a strong 1.24% as of June 30, 2008, and projected to increase to 1.28% by year-end, according to the National Credit Union Administration (NCUA).
Credit unions are nationally recognized for having steered clear of the subprime mortgage mess by lending responsibly and holding more of their mortgage loans - roughly 70% - in their portfolios instead of selling them on the secondary market to beleaguered Fannie Mae and Freddie Mac. Also, credit unions have a better capital-to-asset ratio - 11.1% - compared with 10% for banks.
What does share insurance coverage mean for you?
If you have more than one single-ownership account in the same credit union, all those account balances are added together and insured in the aggregate, to the maximum of $250,000.

If you have a joint account at the same credit union, that account is insured separately from your individual account up to the $250,000 level, provided each of you has personally signed an account signature card and each of you has a right of withdrawal on the same basis. Each individual's interests in all jointly held accounts are added together and insured up to $250,000.

If you have accounts at more than one insured credit union, you have coverage up to the full insurable amount in each credit union. If your credit union has one or more branches, the main office and all branch offices are considered as one credit union.

If you have a revocable trust account, such as payable-on-death, living trust, or testamentary account, insurance coverage for each account is up to $250,000 per owner for each qualified beneficiary. And...

While IRAs and Keogh accounts are insured separately from nonretirement funds, with each type insured up to $250,000, funds in traditional IRAs and Roth IRAs are added together and insured in the aggregate up to $250,000. Coverdell Education Savings Accounts are treated as irrevocable trust accounts and added in with your other irrevocable trust account funds insured separately up to $250,000.
Bottom line: Depending on how your accounts are established, funds in a federally insured credit union can be insured to a level much higher than $250,000. For more information about the specifics of your insurance coverage, visit with the professionals at the credit union.
For more information regarding share insurance click here.
Copyright 2008 Credit Union National Association Inc.
We May Be Calling You!
To protect your account, we monitor your ATM and debit card transactions for potentially fraudulent activity which may include a sudden change in locale (such as when a U.S.-issued card is used unexpectedly overseas), a sudden string of costly purchases, or any pattern associated with new fraud trends around the world.
If we suspect fraudulent ATM or debit card use, we'll be calling you to validate the legitimacy of your transactions. Your participation in responding to our call is critical to prevent potential risk and avoid restrictions we may place on the use of your card.
Our automated call will ask you to verify recent transaction activity on your card.

You'll be able to respond via your touchtone keypad.

You'll also be provided with a toll-free number to call should you have additional questions.
Our goal, quite simply, is to minimize your exposure to risk and the impact of any fraud. To ensure we can continue to reach you whenever potential fraud is detected, please keep us informed of your correct phone number and address at all times.
In the meantime, please be diligent in monitoring transaction activity on your account and contact us immediately if you identify any fraudulent transactions. Here are some additional tips on protecting yourself from debit card fraud:
Protect Yourself! Unless absolutely required for a legitimate business purpose, avoid giving out your: address and ZIP code, phone number, date of birth, Social Security number, card or account number or card expiration date. Your PIN is private; never give it out!

At stores and at ATMs, always cover your card and PIN, and watch for: Cell phone cameras, mirrors, or other tools used to view cards and PINs; people watching your transactions; cashiers taking your card out of sight (take it to the register yourself); any unusual activity at ATMs (if you feel uncomfortable, go to another ATM).

Online, you should never respond to unsolicited emails that: Ask you to verifiy your card or account number (such emails are not sent by legitimate businesses) or that link to websites; such sites can look legitimate but may collect data or put spyware on your computer.
For any questions concerning your debit or ATM activity, please contact our Debit Card Administrator at (850) 227-1156.