The Emerald Coast Federal Credit Union is a full-service financial cooperative, dedicated to s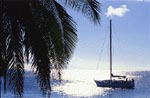 erving its membership. We were originally chartered in 1939 as St. Joe Papermakers Federal Credit Union to serve the employees and their families of the local paper mill. In 1998, we became Emerald Coast Federal Credit Union and converted our charter to a community credit union serving Gulf County and the City of Mexico Beach. In 2012 we expanded our field of membership to include Franklin County. That means if you live, work, worship, or attend school in, or have businesses and other legal entities in Gulf or Franklin County or the City of Mexico Beach, you are eligible to become a member.
We have evolved into an outstanding, locally owned and operated financial institution. Being a part of the credit union family brings you great advantages; such as low service fees, higher dividend rates, and lower interest rates on loans. We offer a full range of products and services that can meet all your financial needs.
We have three locations to serve our members. Our main office is located in downtown Port St. Joe at 502 Woodward Avenue, our first branch office is located in Northern Gulf County in Wewahitchka at 101 East River Road, and our second branch office is located in Eastpoint (Franklin County) at 282 US Highway 98. Each location has all the capabilities needed to make financial transactions simple and convenient!
To learn more about our financial
products
and
services
, please take a few minutes to browse our Web site.